Sparklines
---
Visual revolution of word graphics
Sparklines integrate time in tables, boosting informativeness and information density enormously. Our DeltaMaster software is a pioneering product in terms of sparklines, and provides several patented and hugely important details on correct use of this new chart format.
Definition of sparklines
Sparklines are miniaturized, word-sized time series. This is why they are also called word graphics or microcharts. They were first proposed as line charts by Edward Tufte in 2004. Only the last data point is labeled. This is enough to understand what happened before it. Tufte describes the concept with lots of outstanding example in his fourth book on data visualization, Beautiful Evidence. The book was published in 2006, and is the same one in which our office dog Bella gained visualization expert status.
"A sparkline is a small intense, simple, word-sized graphic with typographic resolution. Sparklines mean that graphics are no longer cartoonish special occasions with captions and boxes, but rather sparkline graphics can be everywhere a word or number can be: embedded in a sentence, table, headline, map, spreadsheet, graphic. Data graphics should have the resolution of typography."
Edward Tufte, Beautiful Evidence, page 46-63.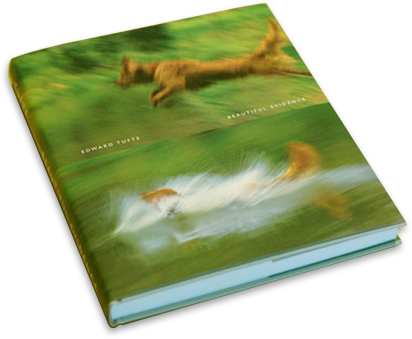 An electrifying idea
Since William Playfair (1759–1823) illustrated abstract economic data by geometric means in the first line, bar, and pie charts, no other new format has had a similar importance to business intelligence.
That's our view, at least. We were electrified. In summer 2004, we set about developing our own formats, writing a sparkline dictionary for our customers, developing a sparkline font, integrating sparklines into our software, and more besides.
Sparklines in DeltaMaster
Charts are notoriously hard to produce and interpret, resulting in costs and risks in business intelligence, performance management, and controlling. Since the early 2000s, we have been countering this with the concept of Graphical Tables. They combine the orderliness of tables with the attractiveness of graphics, while avoiding their drawbacks. Graphical Tables gave us the technical means to incorporate all kinds of graphical elements into tables in DeltaMaster. The double-column rows with which we showed conspicuous patterns in our comparator, a data mining module, gave a foretaste of the subsequent implementation of our column sparklines in DeltaMaster 5.0.8 in October 2004. At first, we were very reluctant to use line sparklines: They require a lot of effort for comparable scaling, otherwise they invite misinterpretation. To this day, column sparklines still dominate in our applications for analysis, planning, and reporting.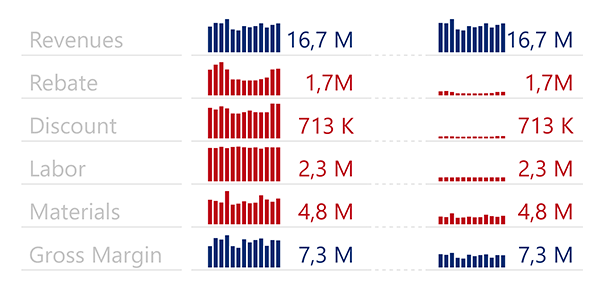 Sparkfonts
When Edward Tufte published the advance copy of his sparklines chapter from Beautiful Evidence in his blog, we were electrified by the sweeping significance of the concept. Graphics as words? What a great idea – and not just within business intelligence and performance management! There would finally be an end to the ludicrous segregation of figures, graphics, and words as still reflected on computers by the functional separation of text processing, spreadsheets, and graphics programs even though everything belongs together in the mind. We saw the opportunity to make data density popular, and wanted to help raise awareness that tables often lack the necessary context in terms of time, and business charts the clarity and orderliness, to be effective in business intelligence. But how can you generate sparklines for changing data if you are not a graphic designer and programmer, or if you don't have our DeltaMaster? We mapped sparklines to a TrueType font and put it online at the end of 2004 so whoever wanted to could literally write with word graphics – initially with the help of an encoding table. Shortly afterward, we extended the sparkfonts to thousands of characters for various columns and line segments. With a kind of "flexible logic", we achieved improvements in the display of the lines. This resulted in one of our first sparkline patents. Find out more about the early writing with sparklines here.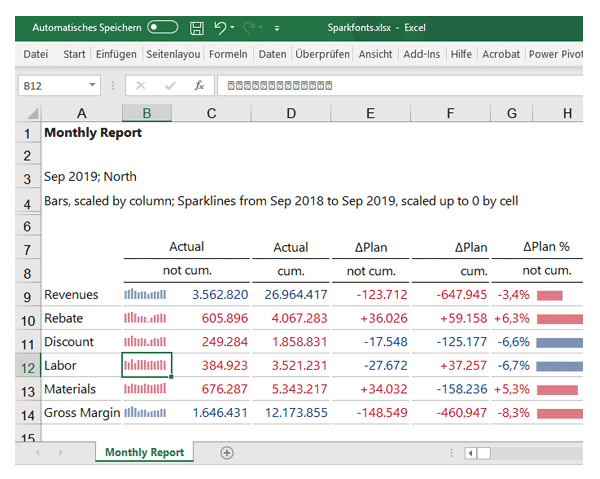 Sportlines on paper
In 2010, we branched out in a new direction with a college friend. In his Berlin magazine Traffic News-to-Go, we experimentally explored the issue of how print media could improve the quality of their information through sparklines. A newspaper can produce sparklines particularly well: Paper allows high-resolution printing and is easy to read. By contrast, screens run out of space quickly; items that should be seen at the same time simply don't fit on.
We started with sport: In the June issue of Traffic News-to-Go, we printed the match results from four Bundesliga seasons with a row of triangular flags for each club and season. The flags represented the match results. A flag pointing upward meant a win, and downward a defeat; a line in the middle meant a draw. This resulted in patterns that reflected a team's progress through the season. Surprisingly little space was needed for this; sparklines barely make the usual results tables any bigger, but the data density increases substantially. We fitted in the 1,200 matches from four seasons. This contrasts with the usual snapshots in the daily newspaper. Sparklines explain the development with all events that led to the result.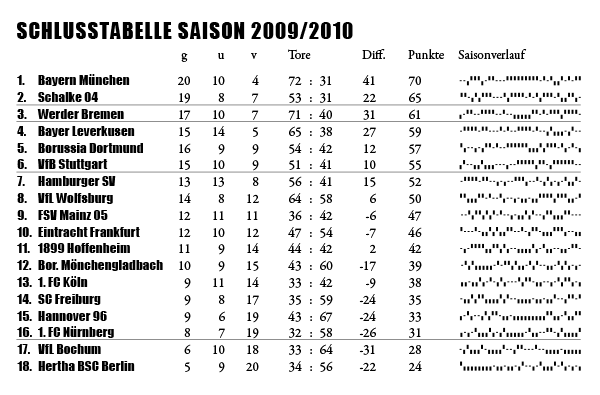 Data words on paper
In the next issue of Traffic News-to-Go, we went one better: sparklines are not only easily embedded in tables. We can also embed them in the text and form sentences from them. We had formed sentences charting Bayern Munich's path to that year's league title in the text on the sportlines in the previous issue, keeping it interesting with the progressions of other teams, too. Context can also increase the quality of reporting and reduce the excessive number of supposed "crisis reports". We showed how this works with text-embedded progressions of the euro exchange rate that refuted all the common short-term perceptions and assertions.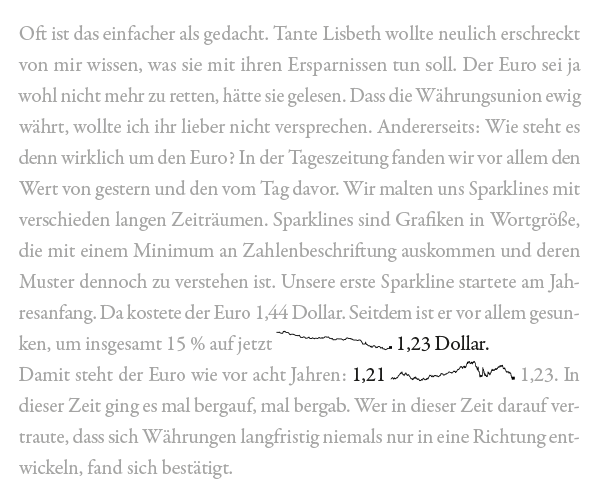 Chartlines on paper
A sparkline graphic with a particularly high data density rounded off our sparkline trilogy in Traffic News-to-Go. We set out the up-to-date share prices of all 30 Dax stocks and added the development of the stocks since the start of the year with sparklines. This was hugely effective: The equivalent value of almost 5,000 market prices could be read at a glance on one fifth of a page of this newspaper. Because sparklines work like data words, we can read them as a whole, i.e. word by word, or as individual characters, i.e. letter by letter. And because we show the progression as a change compared to the share price at the start of the year, all progressions can be compared with each other, overall or day by day. The same layout was also easy to read on the then current versions 3 and 4 of the iPhone and on the iPad. The smartphone screens are hot on the heels of paper.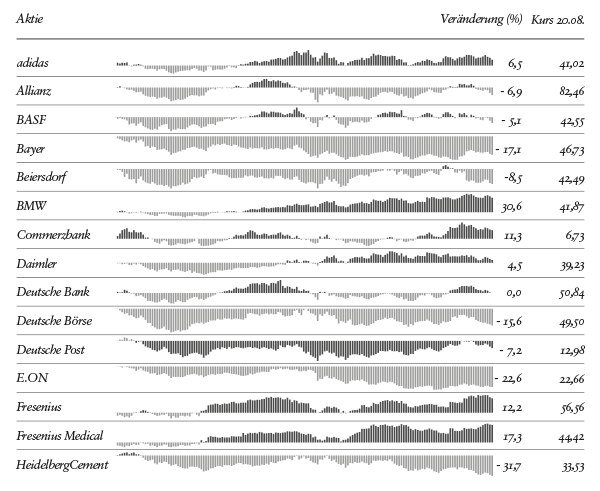 Semantic zoom
In general, sparklines have a great reducing effect. Only the latest, most important value is labeled. The graphical pattern of up and down, rise or fall, continuation or interruption of a trend explains this value. However, in the day-to-day world of business intelligence, managers sometimes have to look at the previous values, which are shown in a sparkline graphically but not numbered. With our semantic zoom, we close the gap between the compressed, ideal display of the sparkline and a fleshed-out time series chart. In predefined stages, the sparkline is given more and more screen space, which is gradually used for additional data labeling. The magnification is calibrated in such a way that the graphical patterns of magnified and labeled sparklines remain comparable with those of their unmagnified neighbors. Step by step, the semantic zoom delivers the actual values as well as the percentage deviations between successive periods that are typically of interest.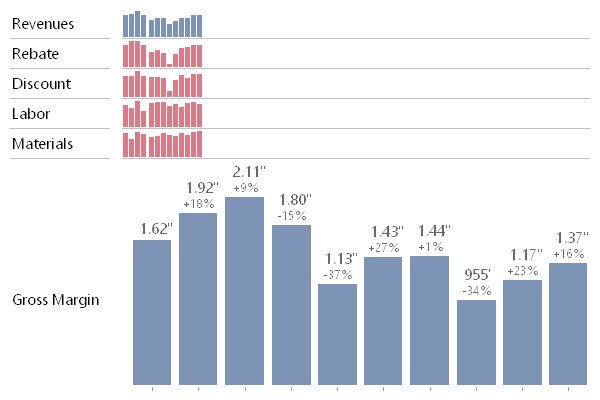 SparkTicker
Alongside the inherently static use of sparklines on paper, we were interested in the dynamic display that is only possible on screens. The semantic zoom was one embodiment of this – animation was another. To date, animated formats are rare in business intelligence, performance management, and controlling, even though motion and animation are obviously among the biggest attention-grabbers. So we set sparklines in motion and made them move across the screen, much as news or stock market tickers do on TV, albeit without sparklines. In an enhanced version, we connected the semantic zoom with the ticker so that users can pause the ticker and enlarge it selectively in the event of conspicuous patterns.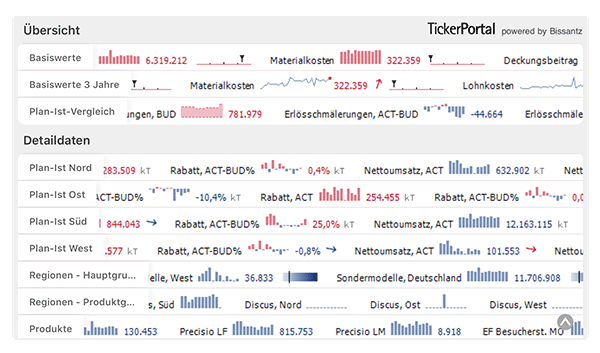 Drill Scroll
If required, the semantic zoom provides details on the history that are shown in compressed form in the sparkline. The zoom extends the view horizontally, as it were. A "vertical zoom" is also desirable: People want to know how a value breaks down to the elements of dimensions such as products, regions, or organizational units. Accordingly, we combined the SparkTicker with the AI-based navigation algorithms familiar from DeltaMaster and called the result Drill Scroll. Through interaction with the mouse, the dimensions can be interconnected or interlinked in the same image – much as we envisaged in the form of DeltaApp years later, when smartphones had become smart enough.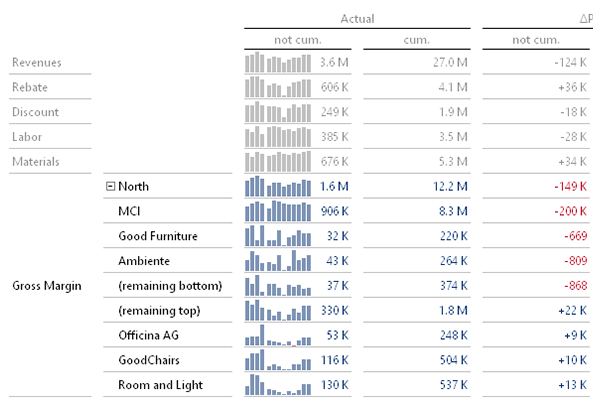 Sound-animated sparklines
The understanding of patterns benefits from moderate redundancy: We understand the same information better and faster if it is concurrently transported on two sensory channels. We applied this principle to sparklines by showing columns or line segments in chronological order while also sound-animating them at different pitches in proportion with their values. One challenge here was choosing the right musical instrument to play the sounds. At different pitches, most instruments trigger an emotional response that is hard to categorize. Eventually, in an obscure African wood instrument, we found a suitable, largely non-emotional resonating body whose spectrum promotes the perception of differences in values without preempting an assessment.
Sparklines in the Datev business assessment
Datev is Germany's third-largest software company. The products it makes are the de facto standard in tax consulting and auditing. Its business assessment is one of the most important information sources for SMEs. The figures in this standard report are regarded as reliable and up-to-date, yet the monthly issue does not show any patterns. This changed in 2008, when Datev integrated technology produced by us into its business assessment software – thus propelling sparklines into the offices of hundreds of thousands of users.