Business Intelligence with DeltaMaster

Reports turn red when the figures are embarrassing.
Reports turn blue like the sky when the figures are right.
Should every employee be a data scientist? Should everyone be able to present their own and others' conclusions? Should differences between correlation and causality be discussed at every single meeting? Not with DeltaMaster.
The potential offered by data is best harnessed by defining specifications and guidelines, identifying variances, and undertaking immediate corrections in order to ensure target attainment. With DeltaMaster, you can leave behind adolescent fantasies of data rock stardom and data storytelling in favor of data-driven, fact-based performance management.
---
Turning data into signals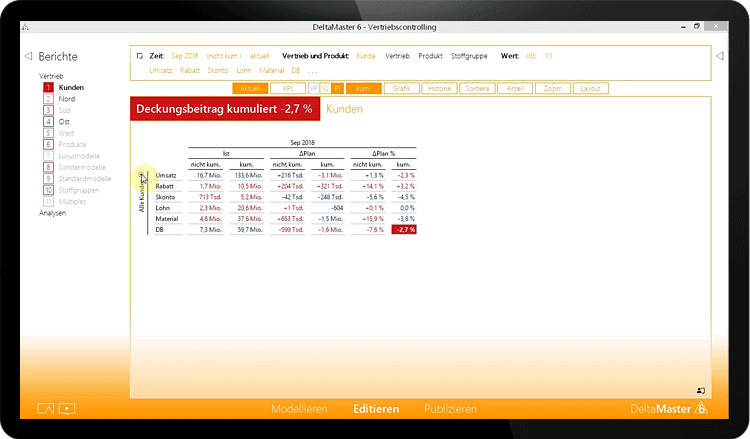 Piles of reports, a deluge of diagrams, stumbling blindly in the data cloud – all of these are old news. DeltaMaster lets everyone see and understand the next task in line, whether in controlling or the business departments.
Choose the Business Intelligence software from Germany that has won multiple awards for its methods and visualization.
---
Tables – preferably graphical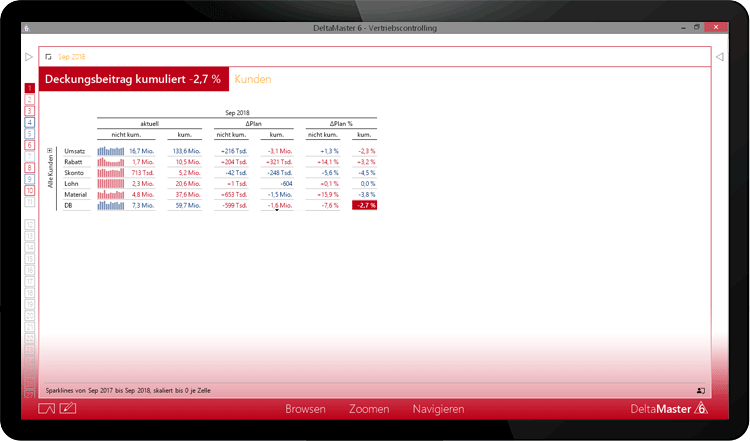 Tables are frequently underestimated, often vilified. And yet they create orderliness and clarity where others use graphics to paint stories and speculate. They perform the most important task of any graphic in the easiest way, guiding the reader's eye to where they should begin reading and understanding the figures – when Graphical Tables from DeltaMaster are involved. An AI component places graphical elements where they belong to and uses patented rules to determine which graphic type is suited to get the most out of your data.
---
Numbers are the best pictures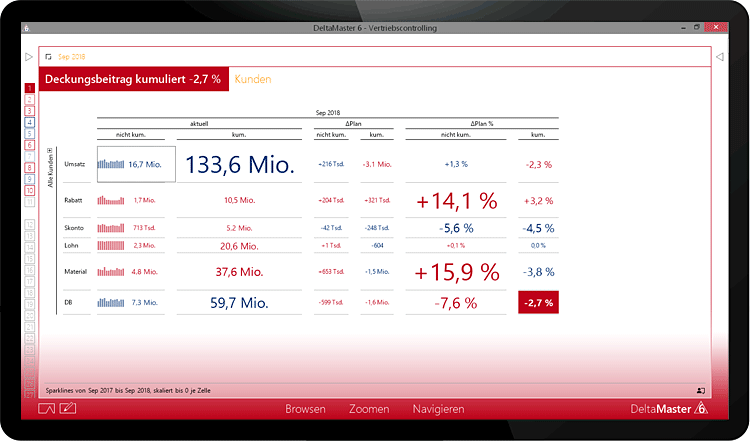 There is a new format for diagrams, business charts, infographics, statistics, and tables: the typographically scaled figures of Bissantz'Numbers. These "numbergrams" are as simple as effective: the higher the value, the bigger the number. This guides the reader's attention and immediately communicates what's the figures' signification.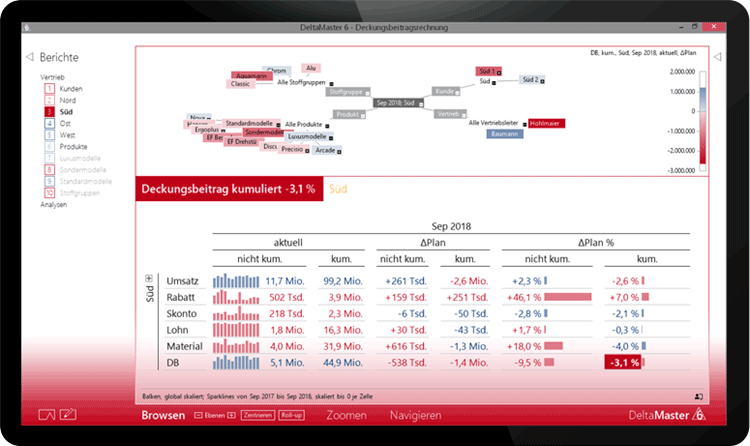 Browsing with DeltaMaster sheds light on even complex structures quickly and reliably. The database hierarchies, e.g. the organizational structure or the customer, product, or material master data, are broken down using a star-shaped projection. The Hyper Browser changes color to reflect the key figure that was transferred by drag and drop. This immediately identifies the drivers of the respective key figure – and even hidden compensation effects.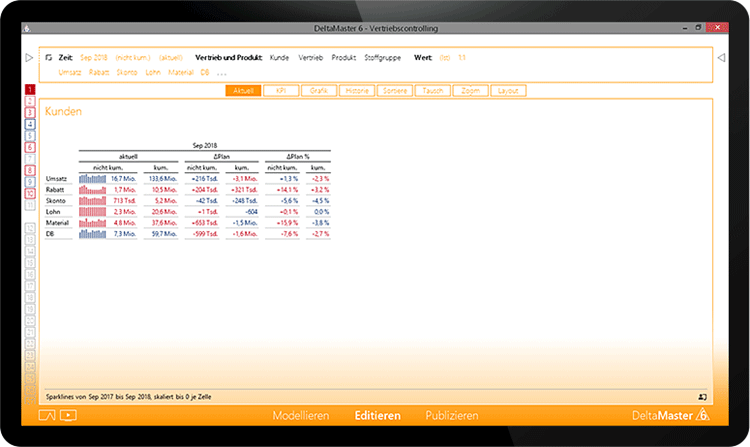 Good design is even better when it is repeated. The same applies for controlling: Small Multiples repeat the same report structure for different report components and automatically arrange the sub-reports. Multiple reports, with tiles are created, allow a wide range of comparisons – and ensure readability. Perception becomes rhythmical and familiar, making life easier for the reader.
---
Planning, analysis, and reporting in a control loop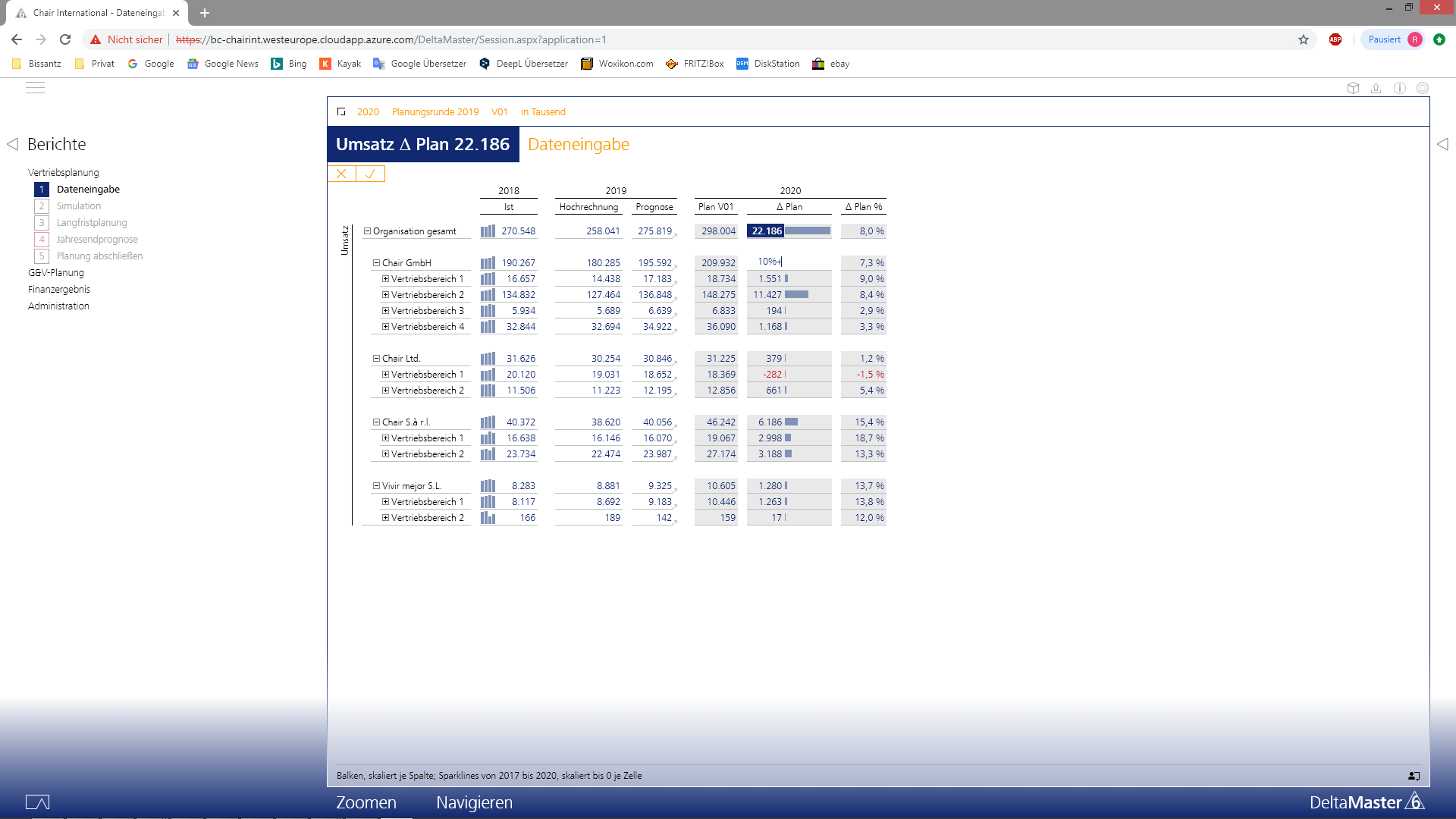 The best figures are the ones you write yourself. The courage and entrepreneurial spirit of an organization are reflected in the figures it undertakes to achieve and whose attainment it reports on. Success is neither stochastics nor statistics. It is achieved by people and their actions.
DeltaMaster supports them in planning and data input with the most powerful functions on the market.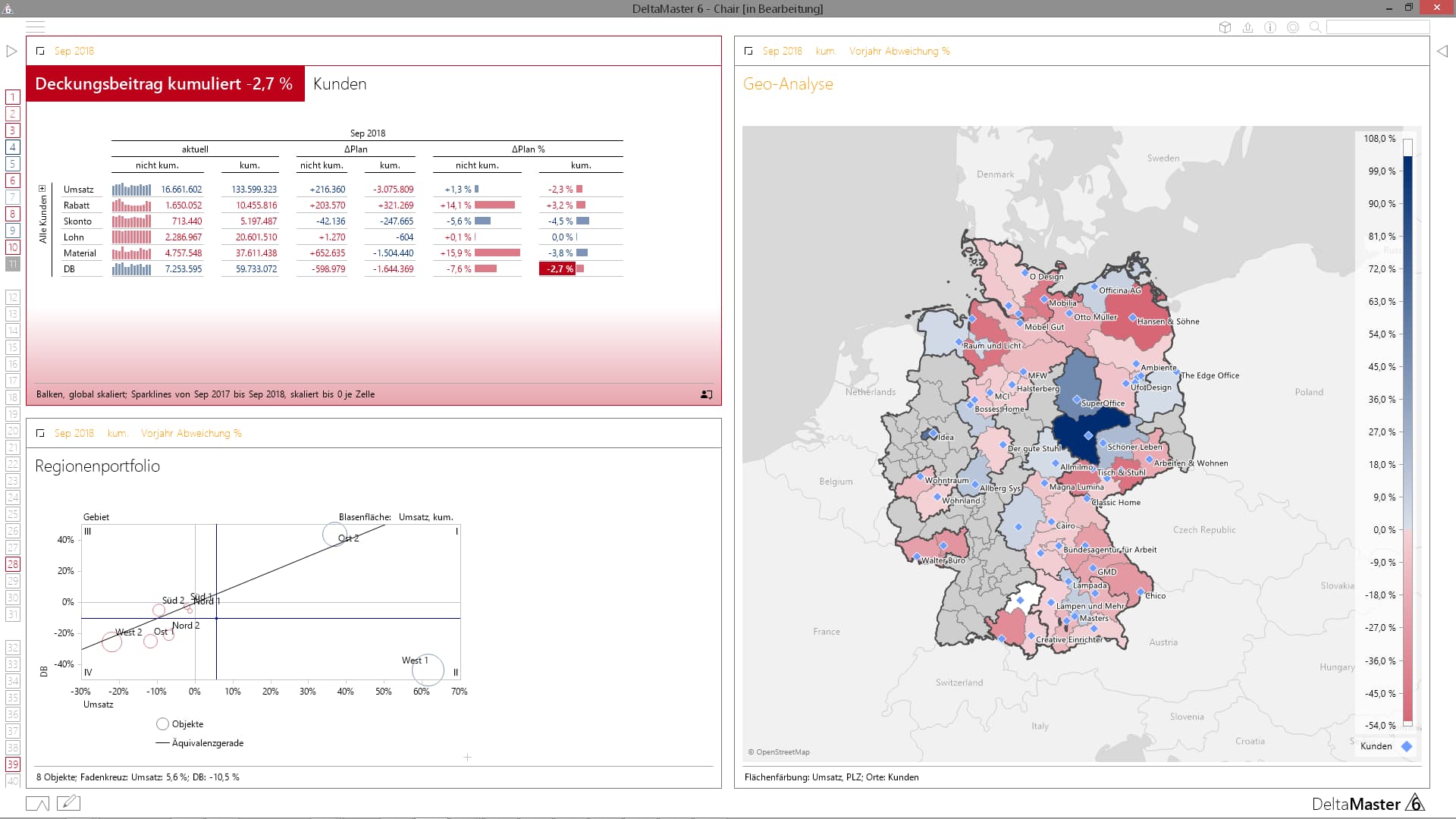 The talent and qualifications of the user should not be the only factor when it comes to analyzing and presenting business figures correctly. There are rules for handling data and structuring and designing reports so that they look good and are easy to understand. DeltaMaster knows the rules and applies them automatically – so that you can concentrate fully on designing the content.
DeltaMaster – Look, see, do!
DeltaMaster applies universal standards for reports and analyses to provide signals that communicate variance and control information more quickly and more clearly than ever before.
AI for planning, analysis, and reporting
DeltaMaster uses integrated modules with artificial intelligence (AI) to achieve a high degree of automation. DeltaMaster generates the standard reports that every company needs, such as performance checks, variance analyses, and future outlooks, in just a few minutes. DeltaMaster contains numerous business methods for ad hoc analysis. With its user-friendly data mining procedures, DeltaMaster supports analyses in which the question arises from the associated data. Bottom-up and top-down mechanisms such as data input at cell or aggregated level, value freezing, and multi-tiered cell comments are used to simplify data input during the planning phase. Report distribution is fully automated by DeltaMaster, so even hundreds of recipients can be supplied with tailored reports. DeltaMaster's role concept addresses operation and data access in equal measure.
At home on many databases
DeltaMaster is a front-end that accesses common multidimensional (OLAP) and relational database systems directly, i.e. without its own data storage. These include Microsoft SQL Server/Analysis Services, SAP BW/Netweaver BI/HANA, Infor, IBM Cognos TM1 and Oracle Essbase. For self-service applications, even Excel files can be used as a source.
Tricky tasks welcome
Bissantz can undertake the entire BI project if required, from ETL processes and relational data preparation through to OLAP modeling and automated report distribution.
In good company
Customers include large companies and SMEs alike. DeltaMaster is used in a wide range of areas, including customer retention management, field sales management, financial reporting, logistics controlling, procurement controlling, production and quality controlling, real estate management, sales planning and controlling, and service controlling.
DeltaMaster at a glance
The right product for every application!
REPORTING – Dashboards, report preparation/display and distribution, ad hoc analysis
The reports and signals DeltaMaster delivers are clear and precise. They show unambiguously where action needs to be taken. This is possible through a consistent business-oriented concept for the format and content of modern KPI management. Integrated tools for standardization and automated formatting promote clear, efficient, uniform reporting.
Report consumers have three powerful methods at their disposal for interactive, ad hoc analysis of prepared reports: browse, zoom, and navigate.
Report distribution by DeltaMaster generates tailored reports fully automatically, even for hundreds of recipients. DeltaMaster's role concept addresses operation and data access in equal measure.
PLANNING – Intelligent planning templates with comments and calculation rules
DeltaMaster's integrated planning functions close the control loop of planning, analysis, and reporting. Recording values is simplified thanks to bottom-up and top-down mechanisms such as data input at cell or aggregated level, value freezing, and multi-tiered cell comments. Multidimensional real-time evaluation can be directly integrated into the planning application, allowing you to check for plausibility and estimate the impact on results during data input.
ANALYSIS – Business analyses made simple, data mining
DeltaMaster contains numerous business methods for data analysis, including rankings, time series, portfolio, concentration, and location analyses, maps, cross tables, and early warning functions. DeltaMaster also includes the necessary statistical functions for special analyses, e.g. for analyzing campaigns, website visit data, quality values, or customer surveys. With its user-friendly data mining procedures, DeltaMaster supports analyses in which the question is not known in advance but instead arises from the associated data.
BISSANTZ DASHBOARD – Mobile BI
Bissantz DashBoard was developed specifically for mobile management reporting, based on in-house fundamental research and findings from the field of neurobiology. Bissantz DashBoard compresses data navigation, variance analysis, and performance management onto the screen of a smartphone – and makes do without diagrams.
KIOSK – Interaktive Informationslandschaften
DeltaMaster nimmt Rücksicht auf die spezifischen Besonderheiten der Aus­gabemedien. Deshalb sehen die Be­richte von DeltaMaster auf den kleine­ren Bildschirmen von Smartphones und Tablets genauso gut aus wie auf den Bildschirmen von Laptops, Desktops, Kiosksystemen und Leitständen. Daten und Anwendungen lassen sich zentral bereitstellen und online oder offline nutzen, auch da, wo wenig oder keine Interaktion erwünscht oder möglich ist.
ETL – Der Business-Intelligence-Baukasten
DeltaMaster ETL ist das Tool, mit dem die Experten von Bissantz in all ihren Projekten glänzen, indem sie in kürzester Zeit individuelle Lösungen aus standardisierten Bausteinen, auf standardisierte Weise erarbeiten. Wenn DeltaMaster-Anwender fast verblüfft berichten, wie schnell ihr BI-Projekt umgesetzt werden konnte, und das termin- und kostengerecht, geht das zu einem Gutteil auf DeltaMaster ETL zurück. Dabei können die mit DeltaMaster ETL entwickelten Lösungen einfach gewartet und weiterentwickelt werden, personenunabhängig und langfristig.
Wir setzen DeltaMaster ETL in fast 99% unserer Projekte ein.