released on October 30th 2020
The web client now also supports Comparator and Multiples reports. Planning applications become more flexible due to finer differentiated authorisations and input conditions. And mobile reports announce an upcoming extension of the Bissantz DashBoard.
All features in detail
Comparator: available in Web client
Diagnosis: disabling execution of MDX and SQL queries
Diagnosis: disabling logging of communication with the repository
Graphical Table: applying measure filter to member drill-down (Axis Definition/Options)
Graphical Table: displaying number of rows in status bar (Table Properties/General)
Mobile Report: displaying history as sparkline in Actual column and exporting history data
Modeling (relational): defining set of members in calculated member using SQL query
Multiples: available in Web client
Planning: allowing data input depending on MDX condition (Report Properties/Data Input)
Repository: maintaining data entry permission per application, folder, and report
Time Series Analysis: hiding outliers (Properties/Chart)
released on September 16th 2020
New in version 6.3.3 is, among other things, an additional role for applications in the repository: As "report recipient (extended)" it is possible to edit reports without changing the existing application. This allows report recipients to spontaneously create their own evaluations, but the application in the repository is protected and can only be edited by report editors. In addition: A space-saving summary of report title and filter bar allows reports to be presented in an even more compact way. In relational applications, calculations with time analysis elements are more flexible than before, the user-defined expressions have been extended and can also be used in the column editor. The SQL Drill Through and Graphical Table in relational applications can read and display images that are stored as binary data (blobs) directly in the database. And last, but not least: Most report actions can now be undone, step by step with Ctrl+Z!
All features in detail
General: reverting and restoring report operations using undo/redo function (Ctrl+Z, Ctrl+Y)
General: integrating report title and control bar into filter bar, in order to save space (Report Properties, General tab)
General: compact format of numbers extended to trillions
General: hiding status bar in presentation mode (Report Properties, General tab)
App: logging in using Identity Server (authentication mode: single sign-on)
Graphical Table (relational): entering user-defined expressions based on time dimension in column editor
Graphical Table (relational): displaying images modeled as binary data (blobs) in member property
Graphical Table (relational): treating predefined navigation steps as network
Microsoft SQL Server Analysis Services: configuring solve order of MDX calculations (SCOPE_ISOLATION property) per report (Report Properties, Advanced tab)
Modeling (relational): modeling binary data of images (blobs) as member property
Modeling (relational): new user-defined expressions for time analysis members available – linear regression, range with step
Modeling (relational): using time analysis members in calculated members
Repository: new role "Report Recipient (extended)" available (permits editing reports, prevents overwriting application)
Selfservice: OLAP Accelerator no longer activated by default
SQL Drill Through: displaying images saved as binary data (blobs) in database table
SQL Drill Through: referencing database server and name in external links using variables (@@Server, @@Database)
released on July 3rd 2020
Another data mining method is now available: the Comparator. It automates a common form of structural comparison: two key figures are specified and it is possible to determine, across all relevant dimensions, where the structures deviate from normal conditions. As a result, it delivers objects with significant distribution differences, for example products or sales territories with a low share of revenues and a high share of discounts. Geo-Analysis offers new options for displaying the markers of locations. In relational applications, a drill-down is now also possible into calculated elements that define a quantity. And planning becomes even more performant through the conditional display of cell comments.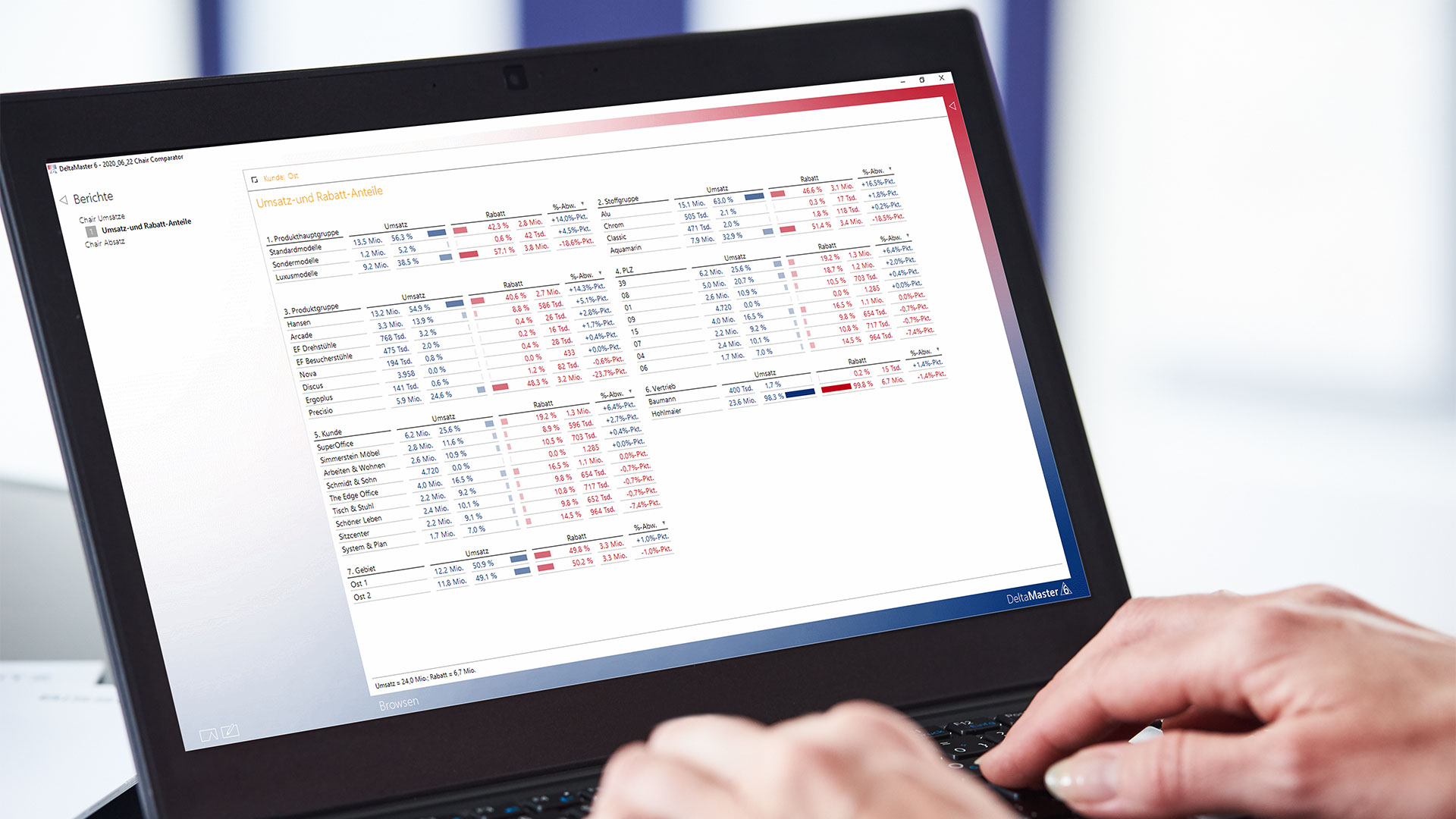 All features in detail
General: displaying reports without report weather using neutral background (Edit menu)
Comparator: available as a new analysis method
Filter Context (relational): restricting selection of members
Filter Bar: configuring view when opening report in presentation mode (report properties)
Geo Analysis: defining image for markers based on member property
Geo Analysis: defining color for markers based on distinct member property values
Graphical Table: displaying numbers in compact format starting from 1.000, 10.000, or 100.000
Graphical Table (relational): using drill-down and roll-up for calculated members constituting sets
Modeling (relational): defining calculated members as calculations between measures on the measure axis
Modeling (relational): showing relationships as matrix and validating data integrity (Structure)
Portal: configuring heading
SQL Drill Through: displaying images in detail view
Cell Comments: enabling or disabling display for cells depending on MDX condition
released on April 30th 2020
In Graphical Tables, the typographically scaled numbers of Bissantz'Numbers can now be scaled by line or column, the line height can be standardized. Once again, we have improved the support for relational data sources: Time elements can be addressed very flexibly with special expressions, and in self-service applications DeltaMaster ensures referential integrity. An AI module detects postings with negative values and helps to improve the comprehensibility of reports and variance analyses for such posting logic. A new detailed view provides a better overview in reports from the SQL Drill Through; report-specific templates allow differentiated HTML export of data records. And we have also made further advances in the scalability and performance of the web client.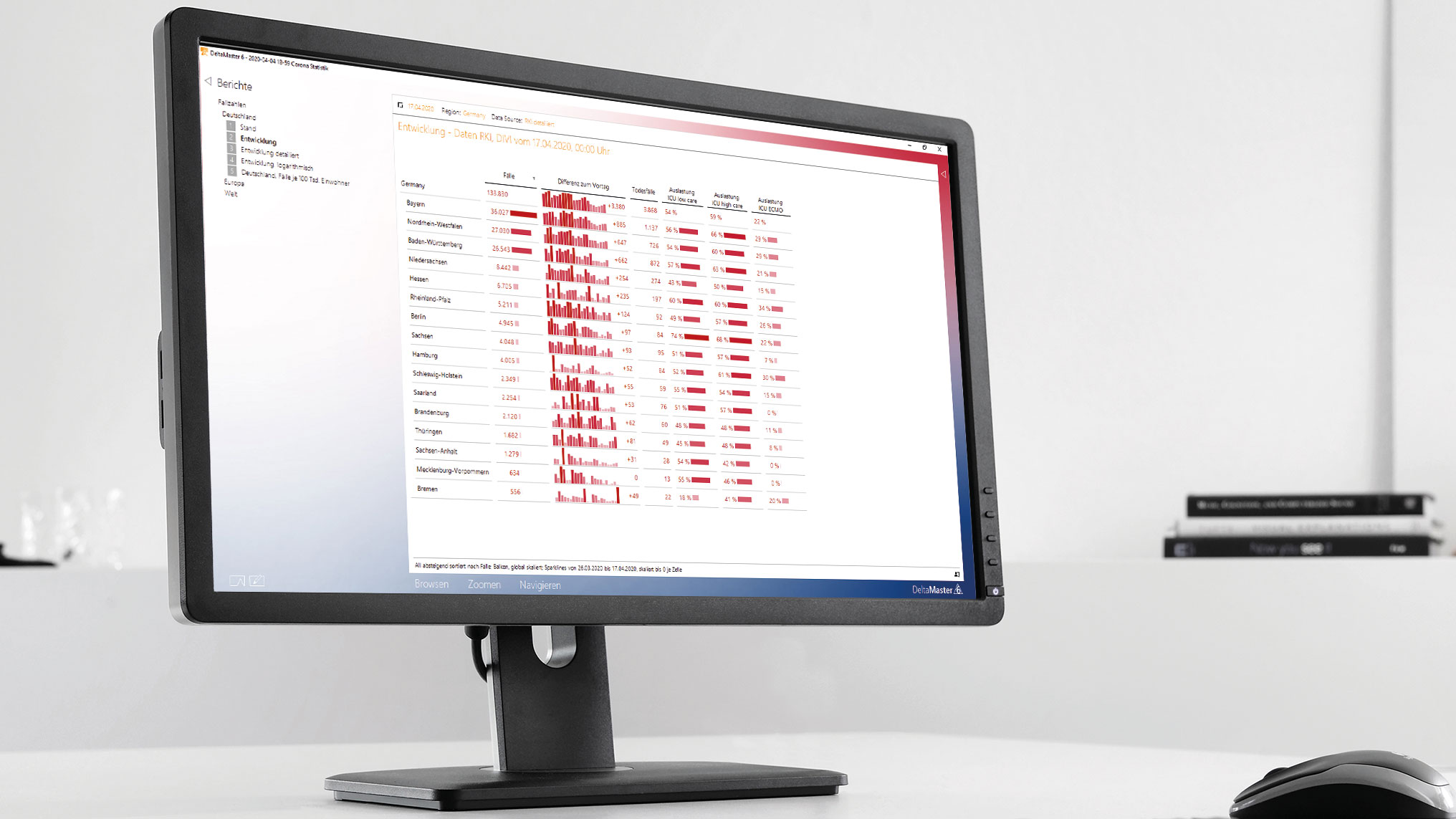 All features in detail
General: hiding empty filter bar and empty control bar in presentation mode (report properties)
General: Microsoft SQL Server Analysis Services 2012 or newer required
General (relational): referencing ancestor members and table fields with variables in report and folder titles
App: logging in password-free (authentication mode: anonymous)
Diagnosis: including WITH expression when adding calculated members or measures in query editor
Diagnosis: executing MDX and SQL queries asynchronously, and cancelling on demand or automatically (timeout)
Graphical Table: creating base reports of Flexreport in report folder
Graphical Table: scaling Bissantz'Numbers by row or by column
Graphical Table: displaying Bissantz'Numbers with uniform row height
Graphical Table (relational): selecting time members on axis based on user-defined expression
Modeling: exporting alias set to (and importing from) repository table
Modeling: checking measures with negative values whether inverting sign is to be recommended
Modeling (relational): combining measures from different fact tables (Union measure)
Modeling (relational): modeling fact tables of different granularity in star schema
Modeling (relational): defining time-analysis members based on user-defined expression
Portal: display of available applications renamed
Publish: running job group via graphical user interface
Publish: sorting jobs by name
SQL Drill Through: exporting data records using report-specific HTML template
SQL Drill Through: showing and hiding fields depending on visibility condition (settings)
SQL Drill Through: displaying fields in new details view
SQL Selfservice: checking referential integrity in relations between table fields
Web Client: using connection pooling setting also in Web Service, to improve query performance
released on March 13th 2020
Highlights are the extensions of the analysis modules PowerSearch and Multiples. The PowerSearch data mining module now also examines the interaction of several characteristics and reveals the most important combinations (tuples). In the multiple reports of the Multiples, you can select a value in one sub-report and use it to filter the other sub-reports. DeltaApp version 1.6.0 has been released in parallel. It simplifies switching between percentage and absolute deviations and allows mobile business intelligence applications to be called up using a service. The integrated sample applications from Bissantz already use this option – so that you can get to know or present the app even more easily.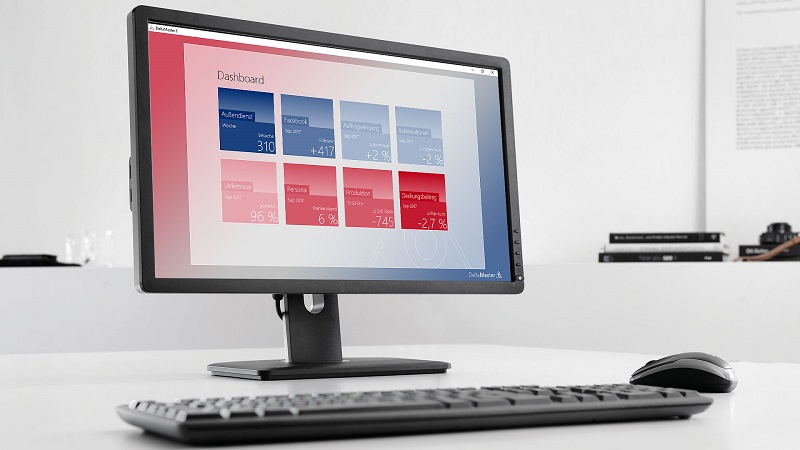 All features in detail
General: DeltaMaster 5 applications no longer supported
App: opening only folders containing the start report after opening application
DeltaApp: receiving applications via service
DeltaApp: swiping from absolute to relative variance simplified
Geo Analysis: performance improved
Graphical Table (relational): combining measure filter with time analysis members
Graphical Table (relational): sorting and nesting multiple dimensions on the row axis
Multiples: using value from one sub-report to filter the other sub-reports (Ctrl + mouse click)
Oracle: creating planning applications
PowerSearch, Ranking: displaying level names using "Levels" Magic Button
PowerSearch: analyzing combinations of characteristics ("Tuples" Magic Button)
SAP HANA: modelling external views provided by SAP BW4/HANA using AutoModel
SAP HANA: modeling fact data of different granularity
SQL Drill Through: changing column width using the mouse
SQL Selfservice: reviewing time dimension modeling and recommending improvements
SQL Selfservice: skipping Prepare
URL View: available in Web client
Web Client: enabling filter bar in portal mode
released on May 8th, 2020
Among other things, we have extended our support for relational databases. This allows you to build parent-child hierarchies directly in DeltaMaster for Microsoft SQL Server, Oracle, SAP HANA and even for self-service applications based on Microsoft Excel files. This type of modeling is particularly used when a hierarchy has different depths. Also referred to as unbalanced or ragged hierarchies, they are quite common in business intelligence, for example in the form of profit and loss statements.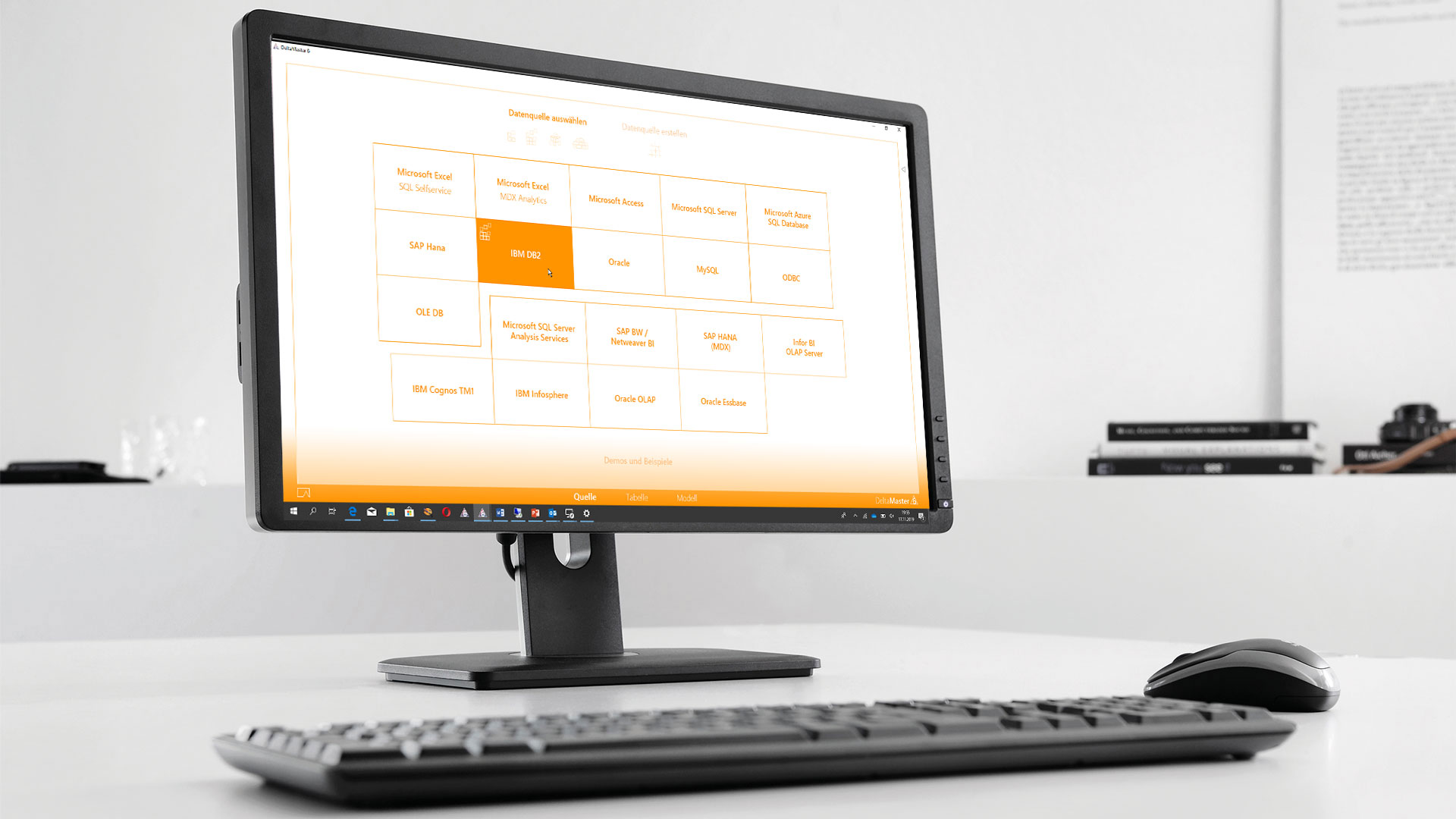 All features in detail
Dashboard: searching applications
Graphical Table: highlighting entire rows/columns of the last navigation step in all reports (Options, Presentation)
Tile Navigation: scaling Bissantz'Numbers logarithmically
Mobile Report: preconfiguring export file to use it as template when exporting
Modeling (relational): modeling parent-child hierarchies
Publish: using export template for mobile reports
Compatible DeltaMaster 5 version: Maintenance Pack 6.2.9 (MP 6.2.9)
Notice: Starting with version 6.3.0, DeltaMaster 6 will use a different storage concept than DeltaMaster 5. From then on, DeltaMaster 6 will only support applications that have been saved by DeltaMaster 6. Maintenance Packs will only be provided up to version 6.2.9.
released on November 22th, 2019
The highlight of this version is a new report type: the URL view, which can be used to integrate web applications and websites. Links to other reports can be created from the geo-analysis. We have refined the zoom levels of sparklines, accelerated browsing, and improved the display of time series in graphical tables. The kiosk mode can be adjusted for multi-screen operation. Parallel to DeltaMaster, a new version of DeltaApp has been released that allows you to filter the KPIs in the app. New animations make the transitions between the data views easier for the eye.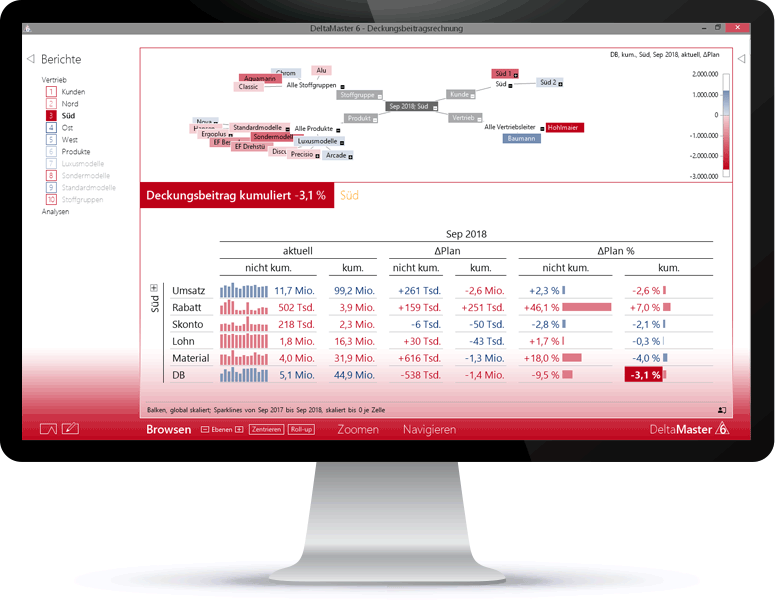 All features in detail
Browsing: Calculation accelerated, responsiveness improved
Dashboard: Displaying repositories and folders of application tiles remotely
DeltaApp: Excluding Outliers from Scaling
DeltaApp: Clarifying Interaction through Animation
DeltaApp: Filter KPI
DeltaApp: Customize Optics with Theme File
DeltaApp: Request password when opening DBC files
DeltaApp: Process unnamed elements
Diagnosis: Log Context of Queries
Diagnostics: Run MDX and SQL queries and measure execution time
ETL: available in version 6.2.8
Filter bar: Display of inactive report filter improved
Geo-analysis: remove the marking of locations by drag-and-drop onto the delete area (trash)
Geo-analysis: define links from areas to other reports
Graphical table: define axis as element selection (instead of plane selection) when dragging and dropping a multiple selection of elements from the filter bar
Graphical table: display deviations in separate steps when zooming sparklines
Graphical table: Drag and drop layer or element selection in Small Multiples to remove them
Graphical table: Compact visualization of time series on the column axis (magic button "Graphic/Auto")
Kiosk mode: use all monitors (command line parameter "-useallscreens")
Mobile Report: Setting the Password for Export File Encryption
Multiples: Export report, as a whole or as individual reports
Planning: Enhancement menu improved
Portfolio analysis: Remove analysis value for bubble area by drag-and-drop
Selfservice: use faster database as cache (SQLite instead of VistaDB)
SQL penetration: automatically convert field links (settings) to report links
URL view: available as a new report type for using web applications and displaying web pages
Compatible DeltaMaster 5 version: Maintenance Pack 6.2.6 (MP 6.2.6)
released on August 23rd, 2019
The new version offers more data mining, more automation, more performance, more ease of use – and a lot more besides. The PowerSearch analytical method is a kind of multidimensional ranking that identifies the drivers of a KPI, both positive and negative, and displays the results as a snazzy Graphical Table. The new component also opens up new analysis and presentation options for Ranking. Reports in the web browsers can now be updated automatically, making it easier to set up kiosk systems. A new quick view speeds up the output of Graphical Tables in web browsers. Configuring mobile devices in enterprise environments can be simplified, and the Repository makes it possible to set up policies on the use of current versions.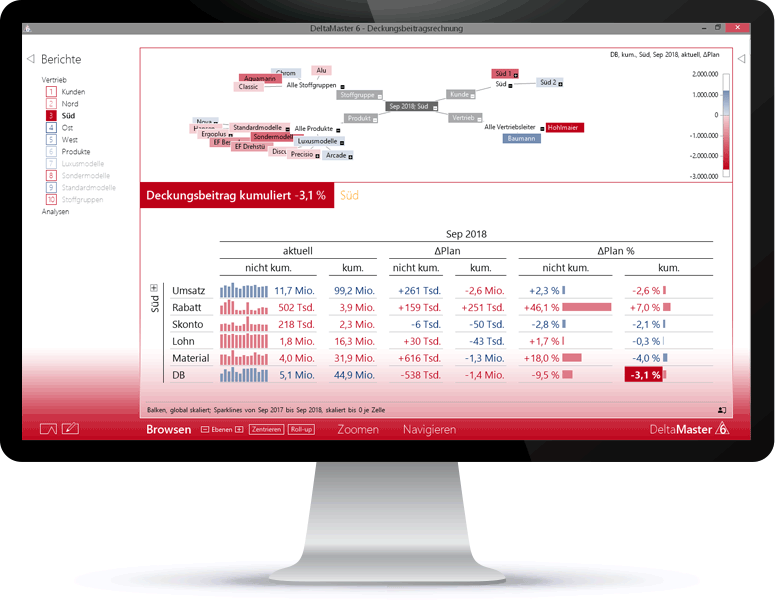 All features in detail
App: configuring server settings via MobileIron
Geo Analysis: receiving measure for choropleth map from links
Graphical Table: highlighting entire rows/columns of the last navigation step
Modeling: always displaying the sign of a measure (measure properties, Format tab)
Multiples: entering data using transaction control
Planning: extension menu available in web client
Planning: quickly importing mass data (bulk import)
PowerSearch: available as new analysis method (data mining)
Ranking: new, more powerful module available
Repository: configuring applications to require minimum client version
SQL Drill Through: limiting line wrap (properties)
Web Client: updating report automatically, as in kiosk mode
Web Client: Quick View improved
Time Series Analysis: optionally omitting null values
Compatible DeltaMaster 5 version: Maintenance Pack 6.2.5 (MP 6.2.5)
released on May 31st, 2019
The new Multiples report type is the highlight of this version. It allows multiple DeltaMaster reports to be displayed next to each other in order to enable cross-report analyses. Mobile reports for DeltaApp are even more flexible than before and can also be defined without any variances or cumulations, for example. And there is another new feature for enterprise applications: DeltaMaster supports IdentityServer4 (IDS) as well as extended authentication options so that external users outside the Microsoft environment and the Active Directory, e.g. sales partners or customers, can also be given access to DeltaMaster applications. When publishing, a new report format makes it easier to send notifications by text message so that even large distribution lists can be clearly informed that fresh reports are available. And what's more, the DeltaMaster app is now also available for Android.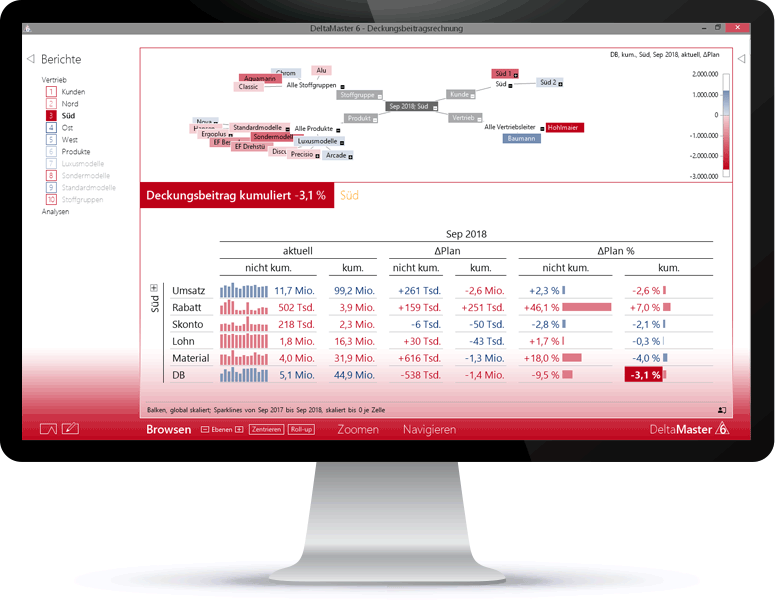 All features in detail
General: enabling authentication without Active Directory
App: Android version available
Geo Analysis: importing settings and reports from another application
Graphical Table: displaying accurate or original numbers in the status bar when compact or percentage presentation is active
Graphical Table: defining a row as the 100 percent base, displaying other rows as a share of this base row ("100%" Magic Button)
Help: watching training videos
Mobile Report: defining columns more flexibly
Modeling: defining number format of members using member properties
Multiples: available as new report type, to display multiple reports side by side
Parent-Child Editor: editing in DeltaMaster 6
Publish: sending notifications only, without a report ("message" report format)
Web Client: configuring an alert regarding not recommended browsers
Time Series Analysis: tool tips for points and lines in standardized time series improved
Compatible DeltaMaster 5 version: Maintenance Pack 6.2.4 (MP 6.2.4)
released on May 17th, 2019
Among other things, we present a new variant for defining mobile reports for DeltaApp using measures if auxiliary dimensions such as period view are not available. In applications with an account dimension, the necessary filter KPIs can now be generated automatically and easily applied to mobile reports. A new module for SQL Drill Through works with stored procedures to open up new options for integrating relational data.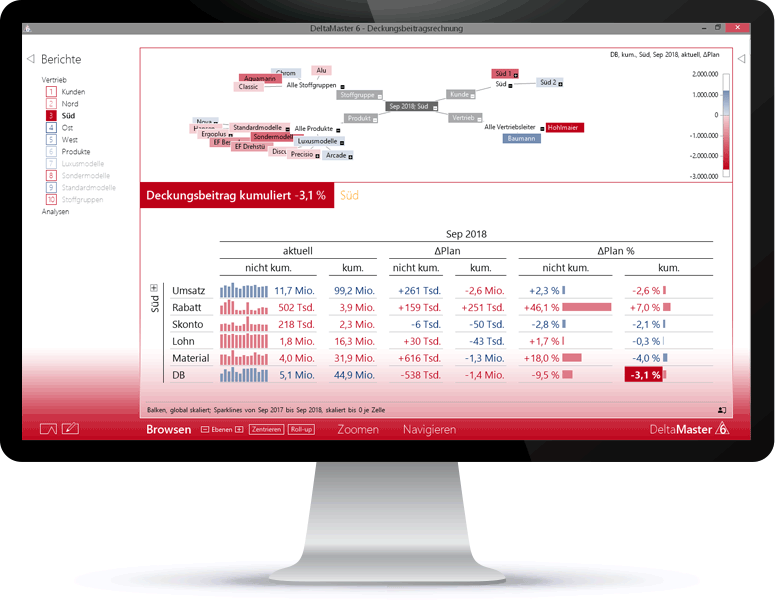 All features in detail
General: report list and menus fixed to the top border of the window
General: performance improved in further areas
App: setting up client certificate and two-factor authentication
App: compatibility with Enterprise Mobility Management (EMM)
App: synchronizing request timeout with Web client
Editing: referencing period names using variables in relational applications
Editing: Standard Report option removed
Geo Analysis: using measures (instead of member properties) as longitude and latitude
Mobile Report: taking cumulation and variances from measures (without utility dimensions)
Mobile Report: automatically reviewing structure and recommending improvements
Modeling: KPI and Main Dimensions section removed from Logic page
Modeling: defining KPI view based on account dimension
PDF Export: fragmenting tables and spreading them across multiple pages
Planning: selecting multiple members as a report filter in hybrid models
Planning: copying using drag-and-drop in hybrid models
SQL Drill Through: new, more powerful module available
SQL Drill Through: executing stored procedures
SQL Drill Through: defining links to DeltaMaster reports
SQL Drill Through: grouping rows with gaps
Web Client: stability and performance improved for large reports
Web Client: clipboard support improved in Google Chrome and Mozilla Firefox
Time Series Analysis: using a dimension other than the standard time dimension for analysis
Compatible DeltaMaster 5 version: DeltaMaster 5 Maintenance Pack 6.2.3 (MP 6.2.3)
All features in detail
Filter Bar: displaying dimensions and selected members in columns
Geo Analysis: outlining areas
Geo Analysis: alerting to invalid coordinates
Tile Navigation: swapping values within the tile via drag-and-drop
Mobile Report: exporting quotient measures
Compatible DeltaMaster 5 version: DeltaMaster 5 Maintenance Pack 6.2.2 (MP 6.2.2)
released on February 15th, 2019
Among other things, we present the Performance Doctor for analyzing and remedying performance issues. Tile navigation has achieved release status and is also available in the web client. Navigating is even clearer when hierarchy menus are displayed in a condensed form. And the Publisher Service allows jobs to be executed on different computers.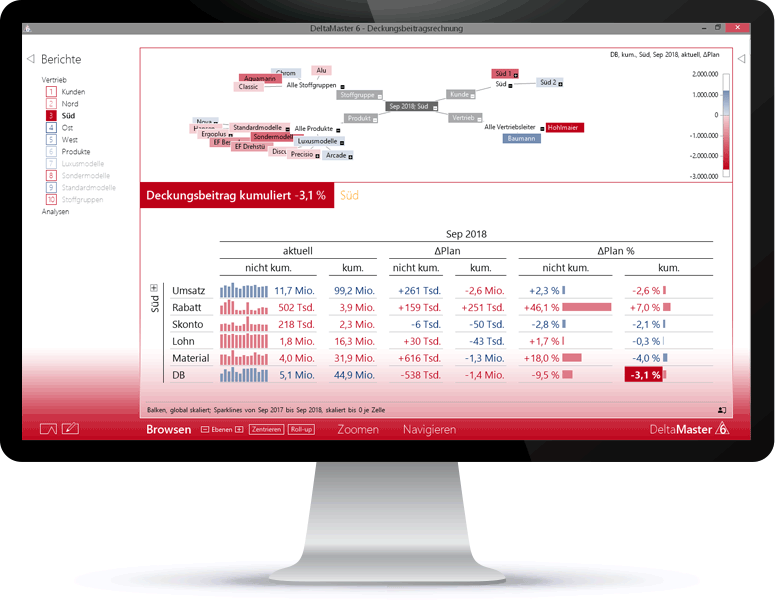 All features in detail
General: using Performance Doctor to analyze and remedy performance issues
Report List: using Tile Navigation instead of tiles on folder title pages
Dashboard: labeling application tiles in different languages in web client
Export: support for Microsoft Office 2019
Geo Analysis: allowing or avoiding overlapping when showing values for places
Geo Analysis: using levels for areas, places, or both when dragging and dropping it
Tile Navigation: available in web client
Modeling: selecting Alias Set implicitly according to current language
Navigate: saving space in hierarchy menus (Options, General)
Planning: selecting multiple members as a report filter in hybrid planning applications
Publish: executing Publisher jobs on a remote machine (Publisher Service)
SAP HANA: integrating modifications of calculation views into application automatically (model synchronization using AutoModel)
SAP HANA: defining time spans as measures
Web Client: configuring password-free login as a predefined user
Compatible DeltaMaster 5 version: DeltaMaster 5 Maintenance Pack 6.2.1 (MP 6.2.1)
released on November 16th, 2018 and
released on January 17th, 2019
Among other things, we present new visualization options in Geo Analysis and tile navigation, the administration of the application status and database reference date in the dashboard, plus simplifications for modeling and editing. We also go into the less visible changes, including performance improvements and measures for ensuring graphical integrity in time series. And, of course, we present the current status of DeltaApp. Take a look – it's worth it!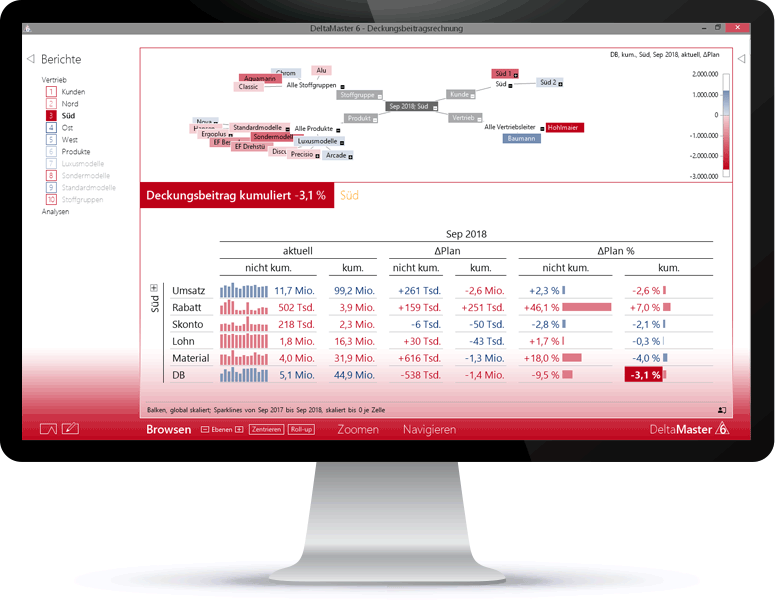 All features in detail
General: importing application components from DAS file (Maintenance Dialog)
General: hiding report title in Presentation Mode (Report Properties)
General: caching SQL queries in relational applications (Options, System)
General: using "" and "" variables in MDX and SQL expressions
Dashboard: displaying application status
Dashboard: displaying reference date of the database
Geo Analysis: showing names and values directly on the map in web client
Graphical Table: defining external links for copying to clipboard
Graphical Table (Relational): saving and reusing axis definition
Tile Navigation: increasing and decreasing size of tiles, automatically or manually
Mobile Report: exporting quotient measures defined in the OLAP database
Modeling (relational): defining sets of members within calculated members
Modeling (relational): setting solve order for quotient measures and user-defined measures
Navigate: omitting remaining members when showing top/bottom members
Publish: updating job definition database in Microsoft SQL Server automatically, or creating tables in empty database
Publish: separate schemas for job definition databases of DeltaMaster 5 ReportServer and DeltaMaster 6 Publisher
Time Series Analysis: displaying recommendation to use logarithmic scaling
Compatible DeltaMaster 5 version: DeltaMaster 5 Maintenance Pack 6.2.0 (MP 6.2.0)
released on September 7th, 2018
In particular, we show you how you can now configure mobile reports even more easily in order to supply data to DeltaApp, our new product line. Other focal points include Geo Analysis, tile navigation, and connecting to SAP HANA.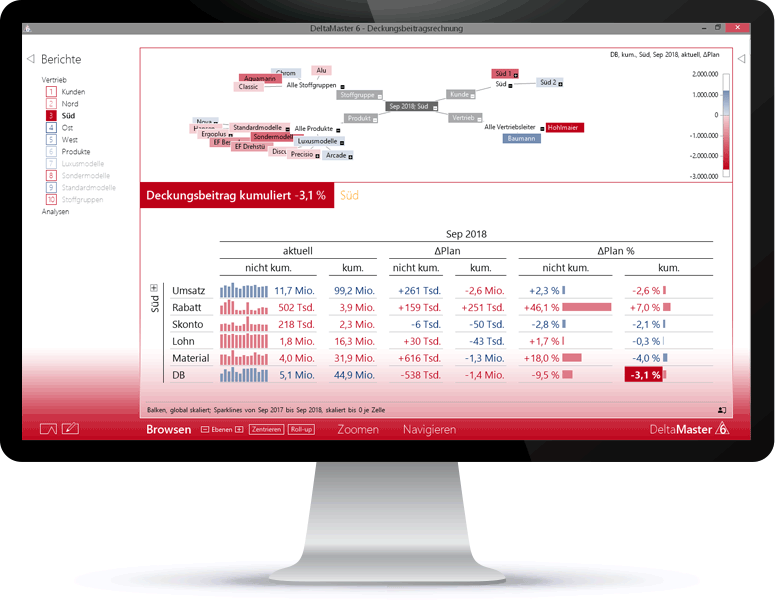 All features in detail
Filter Bar: applying multiple found members as filter by clicking in the report
Geo Analysis: showing names and values for areas directly on the map
Geo Analysis: hiding places with 0-coordinates
Graphical Table: automatic navigation is enabled if no navigation is predefined
Graphical Table: keeping order of members from member selection in inverted hierarchy, e.g. for P&L structure
Tile Navigation: flipping tile in order to switch between simple and full view
Tile Navigation: performing navigation steps in alternation instead of concatenated
Tile Navigation: defining use of measures as evaluation or navigation KPI
Mobile Report: showing and hiding zero values
Mobile Report: compressing and encrypting database file
Mobile Report: partitioning large volumes of data for export
Mobile Report: inserting monthly cumulation ("month to date") using "cumulated/MTD" Magic Button
Mobile Report: predefining report-specific navigation steps using drag-and-drop
Mobile Report: separate license required for use of mobile reports
SAP HANA: modeling calculation views with star join using AutoModel
SAP HANA: modeling parent-child hierarchies
SAP HANA: checking whether connection pooling is enabled
Maintenance Dialog: renaming all tables together
Cell Comments: creating and updating database tables
Compatible DeltaMaster 5 version: DeltaMaster 5 Maintenance Pack 6.1.9 (MP 6.1.9)
released on July 13th, 2018
In particular, we discuss the improvements for modeling self-service applications and the new operation and presentation methods in Graphical Tables, Geo Analysis, and tile navigation. Mobile reports, the new report type that forms the basis for DeltaApp, is only discussed in brief because it was presented in detail in the "DeltaApp" webinar last week. If you missed the webinar, you can watch the recording via the link at the end of this mail.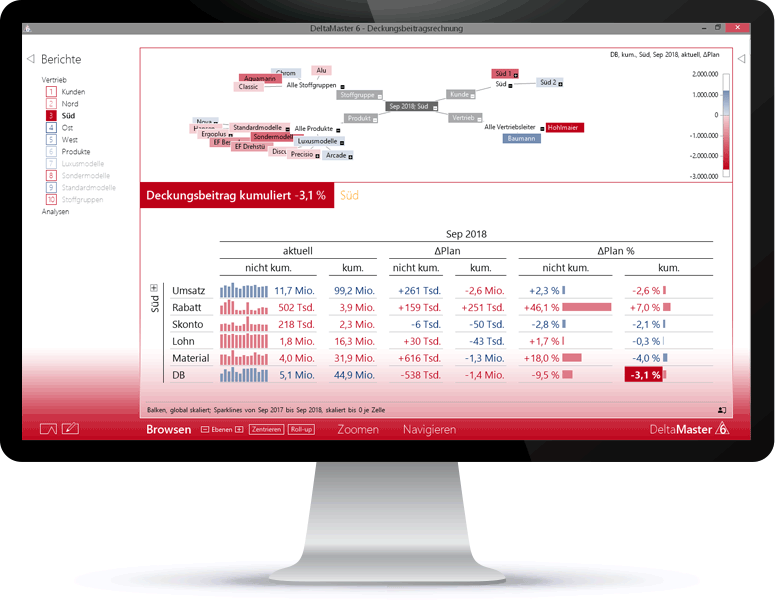 All features in detail
Report List: showing technical report IDs (Edit mode)
Geo Analysis: showing values for places directly in the map
Graphical Table: creating new report using Ctrl+N keyboard shortcut (instead of Ctrl+M)
Graphical Table: applying "cumulated" Magic Button also without "Deltas"
Tile Navigation: defining navigation measure, in addition to information measure and evaluation measure
Mobile Report: available as new report type, to feed DeltaApp
Modeling: labeling levels with hierarchy names in external values from Microsoft Excel, to distinguish them
Publisher: exporting mobile reports
SAP BW/Netweaver BI: using the Netweaver RFC API (instead of RFC API)
Selfservice: joining multiple dimensions from the same dimension table with the fact table
Selfservice: joining tables with composite keys
Web: selecting multiple members from the search results and applying them as filter (Ctrl+mouse click, Shift+mouse click)
Compatible DeltaMaster 5 version: DeltaMaster 5 Maintenance Pack 6.1.8 (MP 6.1.8)