The magazine CHIP from Munich reports:
"Believe it or not, most discount stores put beer and diapers fairly close to each other."
That's due to Data Mining. Because: Young men come. Sent by young women. They forgot to buy diapers. The men find that inane and take beer with them. Wal Mart has known that for a long time. And put the beer close to the diapers. And made a fortune.
I don't get it. Beer and diapers used to sell together. Before they stood together. Why should they be together now? Earning money only with beer and diapers? Why not beer on every shelf? What do women do now? How do they find diapers?
He says (and he has won again because of Data Mining) that it's all a lie, CHIP is hallucinating. So I explored a discount store in Nuremberg.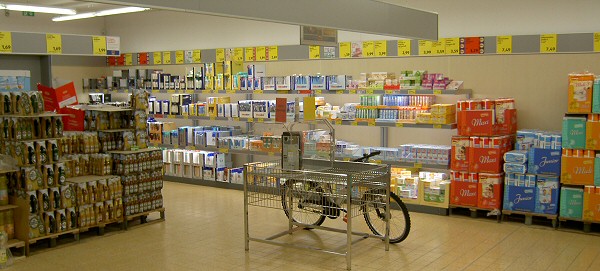 In this discount store (Aldi), beer and diapers are placed together. Because of Data Mining?
Aha. Believe it or not, beer and diapers are located just opposite each other. Bicycles and toothbrushes, too. Then I went to the next discount store. There it is 23 meters from diapers to beer. I wanted to take a photo there as well. But I was thrown out.
Then I asked him. He says: Data Mining is about correlations in shopping baskets. But that doesn't say anything about placement. Some things bought together are better placed far away from each other. People then pass by lots of things that they might also buy.
That sounds good: a bicycle for example.