Another fashion among information designers: geo-graphs without geo-info. Since I am a European Union dog, I know where Great Britain and Spain are. I sniff around for geographical relationships. More Diesel in the North? More in the South? Any regional influence? Something striking in German speaking countries? Or French? More mountains = more Diesel? More winter = less Diesel?
No, nothing.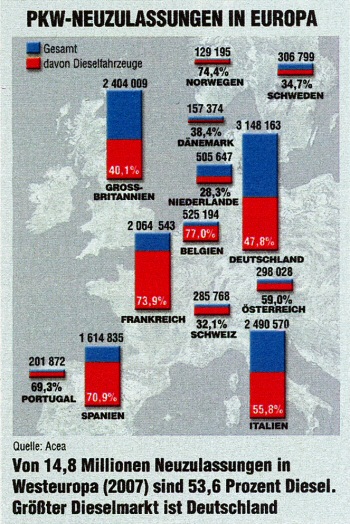 New car registrations in Europe – 53.6 % of the 14.8 million new car registrations in Western Europe have been equipped with Diesel engines (2007). Largest Diesel market is Germany.
Note! The most noble purpose of a graphic: Show a (presumed) causal relationship. You use a map? Then your reader believes you think of a geographical issue.
My antidote to deco-geo as always: a pretty table, good to read, sortable, no problems with labeling, no Fizzel-Fazzel, no legend, no decoding. Wonderful.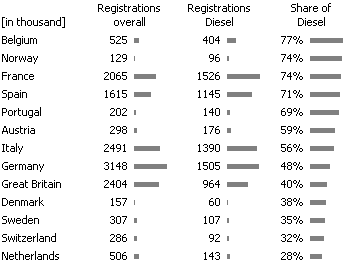 Source: Graphic ams, 14/2008, p. 66