I like the German journal Auto Motor Sport. First I liked the chart from Thursday (6/2009, p. 130), too. Then it felt strange: arrows for security at Mercedes and quality at Opel indicate nearly identical relative changes (-26% and -25%). But they are so different. I painted them correctly in orange. I used 45° degrees for a change of 100%.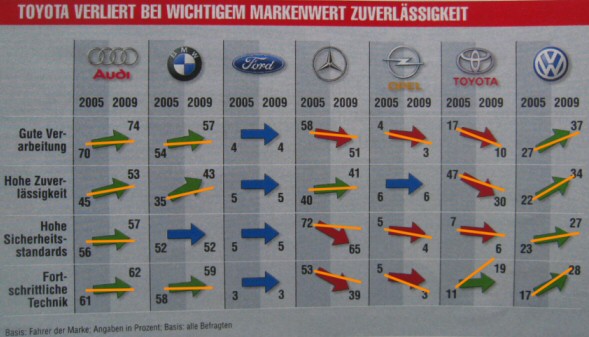 I fear for the designer. He won't get a job with Daimler. Although with Opel. But they don't have any. And Toyota's Ninjas are on his heels.
In case he survives: arrows are reserved for trends. What was in 2006, 2007, 2008? And: all arrows seem to start from the same level. But that is not true. I offer 5$ compensation for this wreck.