In BI, we often talk about steering and control. But who is actually steering – and what? Aren't we just constantly adapting ourselves? Notes from a conversation about our understanding of management information.
Last Friday, I joined a longstanding customer for lunch. She is a top talent, which is why she has ascended as a woman to the executive ranks of a very large DAX company. The many long, hard years that she spent building her career, however, have been sobering. "We are constantly being faced with new requirements that take more and more responsibility away from us – and that on a very high level in our company," she said rather pensively.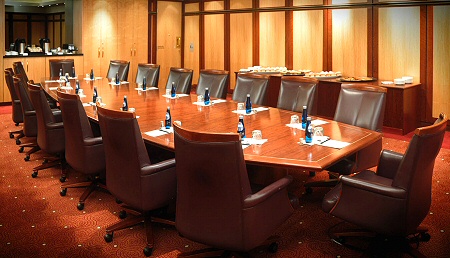 Things that are decided in rooms like this have a lot to do with management – but little to do with steering. And steering is really nothing more than adapting – every day, on every level.
We examined the underlying reasons – as well as we could over fresh sardines wrapped in kelp – and both agreed that the situation apparently isn't something that the current managing directors simply let happen. It is an enormous administrative body that independently works with politics and the public in a Kafkaesque manner – and will endure during the tenor of the next three management boards as well.
Over sautéed turbot on a bed of artichoke leaves, we discussed who actually controls this huge corporation. "It's not the managing board," my customer spurted out. We looked at each other in dismay. Is that true? Don't any directives from the managing directors reach the people making day-to-day decisions? Aren't more and more decisions being made directly where the company is making money – every day, immediatetly, in little bits and pieces? We ventured a peek into other disciplines.
Over lukewarm salmon, we asked ourselves in an evolutionary-biological sense if nature as our greatest opponent had ever rewarded us for any other reason than merely adapting to circumstances. The idea that we somehow could actively steer something on our own didn't seem to fit. So what can we steer, and how? We can only steer a sailboat to a desired destination by reacting to the wind, the current and the swells with permanent correction. Markets, customers, competitors, politics and prices for raw materials cause both strong winds and waves for a company.
Over hare – which according to the maître would come to the kitchen door spontaneous – we agreed: Due to these different forces, there is little room for anyone to steer anything. And after a glass of Hochheimer and the second glass of an Austrian Sauvignon Blanc called "Don't Cry", it suddenly came clear to us: One's ability to steer decreases with the ascent up the corporate ladder, not vice versa. Those seated at the top cannot change whatever has already been done below.
Consequently, a term such as 'corporate steering' hardly exists in business text books. The common term is 'corporate management'. That also implicates that managers need to clearly convey to their staff time and time again and on all company levels: Those who are willing to adapt will survive. Over entrecôte and Argentinean wine we came to the following conclusion: Managing directors have the power because they establish and mediate a system of compensation, which rewards adaption, and motivates and inspires to it.
Over crème caramel with fresh berries and shortly before a cup of coffee, we agreed: We both have come very far when it comes to dissecting the status quo of a company. But we still have quite a lot to do before we can realize who needs to do what next. In this case, what we need most are performance indicators which measure a company's ability to adapt. Yet there aren't many that show that. Which opportunities did we have – and have we used them?
The maître d' then asked if we cared for any fine chocolates but we declined and simply asked for the check. At this hour, the roads would still be clear – and we adapted ourselves to the situation.