You don't need to be a guerilla controller anymore to use sparklines and graphical tables. The avant-garde is now part of the establishment. So why and where does the battle still continue? The discussions and presentations at our Executive Forum held at the Gendarmenmarkt in Berlin provided some clues.
Last Monday, our third Executive Forum took place in Berlin – in the wonderful Delphinium room at the Sofitel on Gendarmenmarkt. Previously, it was a meeting place for Lutheran bishops. And you might say that we were just as evangelical! That's because software just doesn't only deliver features and functions to support decision-making. It also conveys, reflects, supports, suggests and even prevents beliefs or attitudes.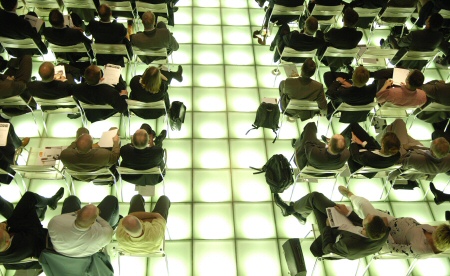 Executive Forum "From Guerilla Controlling to Management Intelligence" on May 25th 2009 in Berlin (Sofitel on Gendarmenmarkt)
A holiday feeling is what I sense when I see signaling concepts for business management. Rating agencies have delivered these types of signals. Business Intelligence manufacturers painted them red or green. The rest is history. And no, there is no Santa Claus.
A healthy egoism is conveyed by a managing director who told me that he wouldn't dream of classifying his reports as 'true and fair' when he is presenting a group budget to the board. The board, however, knows that as well and applies other standards to business group presentations than to standard monthly reports that come from Finance and Control. In his case, they will occasionally have to digest a few pies.
I learned about dedication and proportionality from a senior executive who receives our reports on his Blackberry. He said, "As an executive, I can't just be present between 8 AM and 6 PM. When our production comes to a halt, I want to know that today and not when the line starts moving again. But if I sat every night in front of the TV with a laptop balanced on my knees, I'd have no family life either. My wife, however, tolerates a tiny little Blackberry." No one needs to explain the value of information-dense formats to him.
Something new I learned from a controller who is a good friend of mine and first tested new report formats as part of a cost-cutting project. He analyzed multiple offices within the same company and discovered more or less significant potential. The offices that already had good cost structures were thrilled with the new visualization. But those parts of the business for which he found a lot of savings potential felt that his visualization was 'absurd'. Sometimes you're just helpless against human nature.
Thinking for himself is paramount for an executive I met. He works for a bank which has dealt well with the crisis so far. Every week, he reads through 90 pages of numbers. In fact, he examines them line by line on his frequent flights. That way, he says, he knows exactly where he needs to do further investigation. He is highly suspicious of any form of pre-processing and editing. Long live numbers as the raw materials of business! When we contemplate report designs, I also feel that we should measure ourselves on the green-white report printouts of days past. The majority of what we need can be summarized in a simple list.
We witnessed consistency during a presentation by a managing director of a large pharmaceutical company, when he claimed his CEO and the board was no longer willing to preoccupy themselves with last year's business for months on end. As a result, the processes that were required to create the annual report were shortened so that they were all finished within 28 days. In comparison, IBM and Honda need considerably longer with cycle times of 57 and 90 days respectively. In his opinion, as long as the financial statements were not published and presented, the directors would focus their attention on the past instead of tending to the new fiscal year.
All in all, two suspicions of mine were confirmed, which makes me happy. Technology follows attitudes. And it sometimes pays to cause a stir.