Tax revenues collapse. Tells us the Handelsblatt. He thinks, 9 percent minus and collapse don't go together. I read the article, too. And nearly collapsed: Perceptive priority not understood. Once again: With columns you interpret differences in length as differences in value. Therefore: Chopping prohibited. Or: Use lines instead of columns.
The Handelsblatt didn't. See left. But they should. See right.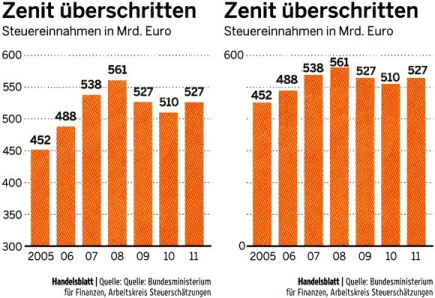 "Beyond the zenith": German tax revenues in billion Euro. Source: Handelsblatt no. 131, July 13th 2009, p. 3. Redesign: me. – The Handelsblatt is a major German economy newspaper.
Now I became a little skeptical and checked the reference (PDF). There are two more estimates. Hm.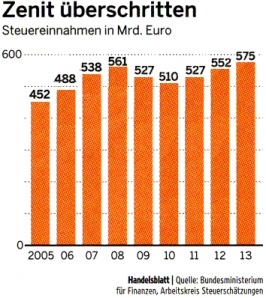 Source: me.