The nice thing about Information Design is that there are so many role models for us to admire. Although we rarely see them in the office, we can at least view them in beautiful venues such as Barcelona, the capital of the Catalonian region of Spain.
The purpose of my trip was actually business – relationship building with a business partner. That, of course, comes naturally with tapas and Rioja. Barcelona is a delight for the senses. But there was also enough time to admire forms and colors. Barcelona, of course, is also famous for Antonio Gaudi's marvels of architecture. A visit to the Sagrada Familia cathedral was a must on my agenda. Before that, I took a stroll through the artist neighborhood of Raval to visit MACBA, the museum for modern art.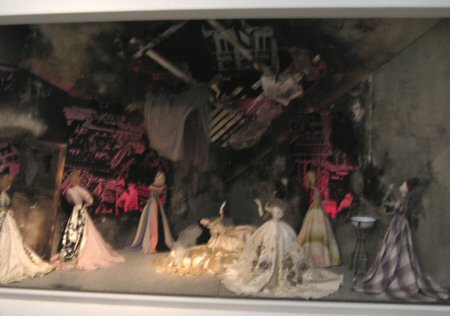 My secret photo of Cocteau's "Théatre de la Mode". Click here for more (and better!) pictures.
In the "Sota la Bomba" exhibit on French and American post-war art from 1946 through 1956, I discovered Jean Cocteau's "Theatre de la Mode". World War II had devastated the French fashion industry. Since fabric was scarce, miniature wire mannequins in a 1:3 scale replaced traditional fashion shows. Cocteau's model is particularly dramatic:
"As impressive as the mannequins' miniature clothing and accessories were the sets in which they were displayed. The artistic director, Christian Berard commissioned graphic artists and set makers to create twelve of these. Possibly the most famous, is Jean Cocteau's Ma Femme est une Sorciere, inspired by the Rene Clair film, I Married a Witch (starring Veronica Lake). This dramatic set featured a group of mannequins in a badly destroyed room, in which half the roof and walls have been blown off to reveal a backdrop of photographs of the city. Other sets were less shocking, but equally striking, and included a theatre, street and fantasy scenes."
Source: https://web.archive.org/web/20110816071230/http://www.highheelsnewsletter.com/Theatre.html
I loved it! Inspired by necessity, Cocteau then produced an asset: a dense, compact presentation that enables viewers to make comparisons within eye's sight. This is the same design principle that drove us to develop graphic tables – despite the differences in motivation.
Viewing and comparing things within sight (not to mention learning how to understand) satisfies every human's innate joy of discovery.
Shortly thereafter, after witnessing the even more fascinating dimensions of the Sagrada Familia, I realized how important it is that the comparison takes place within eye's sight. See for yourself.
In addition to numerous sketches and blueprints, Gaudi left behind multiple plaster models that display how he envisioned his cathedral in detail. This practicality has proved to be a wonderful opportunity for visitors to get an overview of Gaudi's drafts as well as study them in detail. By taking a step back you can observe the formidable structure in its entirety; with a step closer you can immerse yourself in the details of the towers, columns and statues.
The approach is very similar to how we read graphic tables. Here, too, the human eye can identify patterns, for example, the main variances in a waterfall chart embedded into a table or the general pattern of a sparkline. If you view the details, you can observe the ups and downs of a time series or the exact current values.