Monitors are not made of paper. But since real time and interactivity only exist in digital form, paper is much less tolerant than you might think. Our wish is to combine the advantages of both media forms.
Fans of our office dog already know that Bella has just written a book (in German) based on the German version of her blog. The title translates to "Bella consults – 75 rules for better visualization". Next Wednesday, the first copies will be delivered to our office hot off the presses.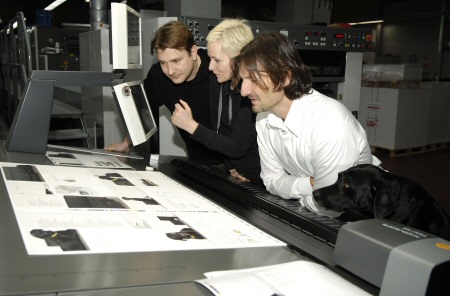 Gerald Butterwegge, Simone Appoldt, Nicolas Bissantz and Bella check the final proofs. Pictures below: Carlos Da-Aira explains the color control process. Helmut Hofmann with Bella.
Bella's book is based on her blog and, therefore, first originated online. The Web, however, is a medium with a very limited resolution. All amateur pictures and scanned images, every drawing and screenshot, all of our own and quoted material worked well in the Internet. In our first attempt to transform the blog into a book, our greatest fears were confirmed: On paper, everything seemed so rough, awkward and lackluster. That meant that we had a lot of work ahead of us. We had to rescan the material, search for the original sources, edit the photos and use all of the advanced print options that our own software supports to give the book the desired effect. We painfully experienced firsthand how large the gap between the print and digital world still is. The explanation is quite simple. Monitors are Pixelland with maybe 1024 x 768 pixels. Paper, however, is Panoramaland which is generally available with over 1,200 different dots per inch. On the UV press at our printer Hofmann in Langenzenn it was even 2540 dpi.
Panoramaland is fascinating. With a good dose of creativity, craftsmanship and competence, we can create an immense resolution with highly impressive quality. Of course, we truly missed the real-time and interactive functions that come naturally in Pixelland. The ink drops in Panoramaland sit in their exact position down to the last micrometer. But if you want to place them somewhere else, that means trouble. For the future, we wish that we could have both – a type of interactive Panoramaland.